Long before Captain Schettino smashed the Costa Concordia into the rocks off of the coast of Giglio, another captain of a passenger cruise ship slammed his vessel into the rock and sank the ship.
Six years ago, the Sea Diamond cruise ship struck a reef and eventually sank off the coast of Santoniri. Two French cruise passengers drown.
In both cases, the captain's poor navigational skills, recklessness and negligence in efficiently evacuating the cruise ship killed passengers.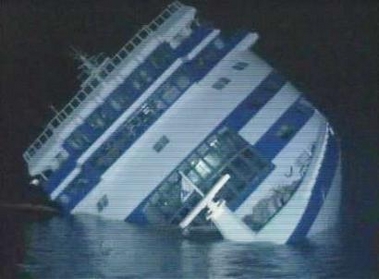 After a long legal proceeding, a three judge panel in Piraeus sentenced the ship's captain to 12 years and two months in jail and sanctioned him €8,000 fine. The judges sentenced an employee of DNV (Det Norske Veritas), which deemed the cruise ship seaworthy, to eight years.
The cruise ship, owned by Louis Hellenic Cruises, sank on April 6 2007 after ramming a reef near the Aegean island of Santorini with 1,195 passengers and 391 crew on board.
A French man, Jean Christophe Allain (age 45) and his daughter Maud (age 16), died.
According to a Greek newspaper, the judges also sentenced the navigation officer (two years and 10 months), chief engineer (two years and four months), company's legal representative (two years), an inspector/auditor (15 months) and a security officer (six months and a €600 fine).
The newspaper states that it is unlikely that anyone will serve actual jail time.
The judges acquitted the ship's first engineer officer, chief officer, chief steward and the cabin manager.
After the verdict, Louis Hellenic vowed to appeal the decisions.